"Rokzin Warrior"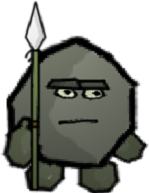 Details
"Rokzin Hireling"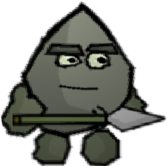 Details
"Rokzin Villager"
Details
"Rokzin Shop Owner"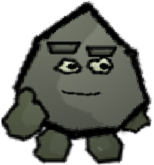 Details
About
[
]
Rokzins are one of the few intelligent life forms of Formagetus. These greedy little guys live deep in the Caves hunting and eating Worms. Their weakness is that they are easily bribed. There are 4 types of Rokzin.
A guard who will stand or patrol the Rokzin village. When angry they will attack.
A Rokzin who can be hired to help fight enemies.
A regular Rokzin, he can't attack and when angry will run away from you.
A Rokzin that sells supplies gathered by the Rokzins.
Attack
[
]
When angry, Rokzins will gather their army and attack you. They will jump and run all while stabbing toward you. Considering that they will gang up on you, they are very tough.
Drops
[
]
On death Rokzins have a chance to drop 0-2 Worm Bits.