"Big Blue"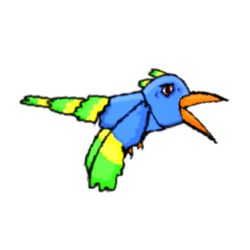 Details
About
Big Blue is a one of the game Bosses he is found on the Island.


Summoning
Big Blue will be summoned if you drop a Feather on top of the Island Mountain. After dropping a feather Big Blue will fly up and, the fight will begin.
Attacks
Big Blue has Two different attacks that he will use during battle. His Egg attack, and his chase attack.

During this attack Big Blue will fly above you dropping eggs.

During this attack Big Blue will chase after you trying to bite you.
Drops
On death Big Blue has a 100% chance to drop Blue's Feather and Blue Blade.